Dear sales partners,

our Coronavirus travel protection is being further improved!
With immediate effect, HanseMerkur will alsopay for trips that are taken despite a pandemic-related travel warning level 5/6
in the travel curtailment/extra return sections of the Coronavirus travel protection
and additionally
in all lines of the underlying main product, i.e. also in health insurance, if applicable – provided that the Coronavirus supplementary protection is taken out
By combining the Coronavirus supplementary protection with one of our cancellation & travel protection products, trips to all countries with pandemic-related travel warnings can currently be insured in all lines!
Doesn't it get any better than this? This regulation also applies retroactively to policies already concluded with future travel dates!
Coronavirus travel protection at a glance
We have been offering your customers cover against the follow-up costs of a possible infection with Covid-19 since the summer of 2020.
Quarantine
Cancellation and travel expenses cover if a quarantine is ordered for the traveller due to a suspected infection with the Coronavirus at home or at the holiday destination.
If the holiday already taken has to be cancelled or extended due to quarantine, HanseMerkur will also reimburse the additional accommodation and return travel costs.
Rejection at the airport
In the event of a temperature reading on the outward or return day of travel which results in holidaymakers not being able to take their flight or travel to their holiday home, the cover also applies.
The Coronavirus travel protection thus optimally complements the existing insurance products and offers comprehensive insurance cover from the possible quarantine at home to the delayed return journey, and now also for travel to countries with a travel warning level 5/6.
Prerequisite: Existing cancellation cover
The product can be taken out by customers who already have travel cancellation insurance from HanseMerkur or, of course, immediately together with taking out new insurance when booking a trip. Please note our deadlines!

This is how easy it is to book Coronavirus travel protection
Booking via VERS-on
Simply book Coronavirus travel protection via our online booking tool VERS-on. The tariff is automatically available in the selection. If you take out cancellation insurance in addition to an existing policy, you only need to tick the box for contract supplementation.

Booking via the booking assistant
Coronavirus travel protection is now offered as an add-on in the booking assistants for all products that include cancellation insurance.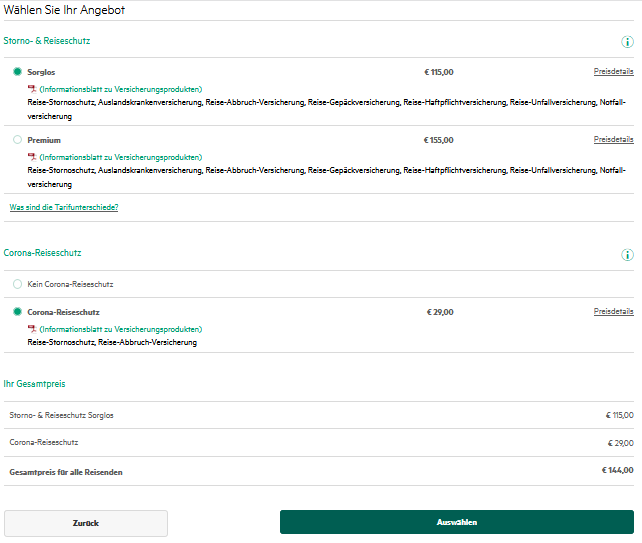 You can makesubsequent bookings for existing cancellation insurance policies via the booking assistant for the "stand-alone" Coronavirus travel protection. Request this from the Vienna sales team of HanseMerkur Travel Insurance.
Our alternative without cancellation protection
If the customer does not want (or is unable) to take out cancellation cover and thus also no Corona travel protection due to missed deadlines, the alternative option of health insurance with risk surcharge remains. You can find all the details here
If you have any further questions, please do not hesitate to contact the Vienna sales team of HanseMerkur Travel Insurance.
Phone: +43 (0)1 710 48 40
Email: reisepartner@hansemerkur.at
Your contact persons in sales:
Andreas Haberfellner
Tourism: Upper Austria
Business Development
Tel.: +43 664 92 72 882
Email: andreas.haberfellner@hansemerkur.at 
Sabrina Nimmrichter
Tourism: Vienna, Salzburg, Tyrol, Vorarlberg, South Tyrol
Tel.: +43 664 92 72 872
Email: sabrina.nimmrichter@hansemerkur.at
Markus Illmeier
Tourism: Vienna, Lower Austria, Burgenland, Styria, Carinthia
Tel.: +43 664 620 90 93
Email: markus.illmeier@hansemerkur.at